I'm Finally Going ALL IN on my Biggest Dream!
I'm launching my biggest undertaking ever. I'm bringing together a crowd of my best customers and supporters to help me fine-tune my upcoming book, and to help develop a new theoretical framework for personal growth based around the Hero's Journey!
I've spent much of the last year working on this book idea of mine — Chasing the Sun. It's a travel memoir, using many of my adventures around the world for the last 8 years, and business trials, failures, and successes and trying to pull out the most useful lessons, about life, entrepreneurship, fatherhood, purpose. etc.
But I've realized what I want to create is something much bigger than just a book. It's evolving into a framework for learning, for self-improvement, and for growth. Something I want to build for my own children to benefit from one day…
The HERO Project brings together my diverse experience from working with a California State University business college to mentoring for innovative alternative education institutions like Exosphere, my formal education in history, anthropology, and comparative religions, to traveling 35 countries and studying their diverse cultures through daily living, to my varying experiences in the arts, design, technology, entrepreneurship, community-building, mentoring and coaching.
We will follow Joseph Campbell's legendary "Hero's Journey" story arc on a wild adventure through personal growth and learning, exploring the Five Pillars of a life well-lived, and seeking to optimize your Mindset, Health, Wealth, Relationships, and Freedom, with lessons and stories told through the lens of Myth, History, and Heroes.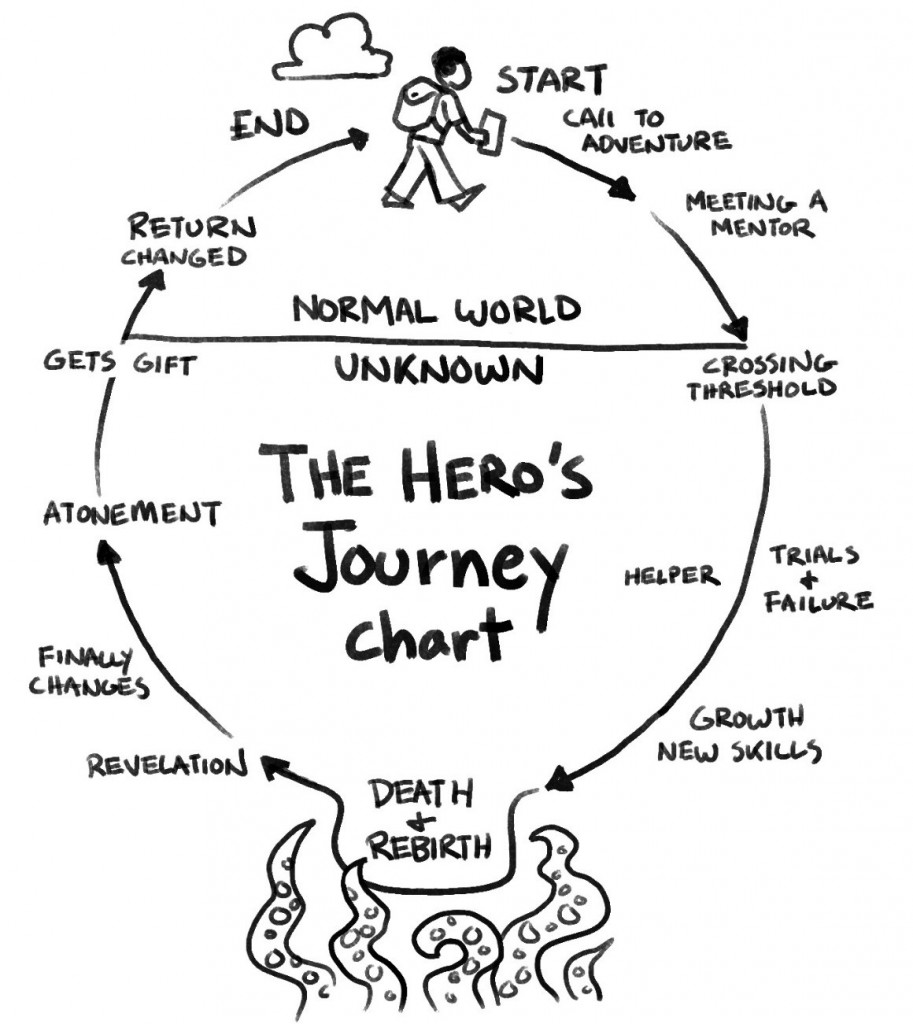 We will unpack how to escape wage slavery and corporate servitude and become a self-reliant Ronin…
We will examine actionable and empowering daily routines and exercises that mentally-strong warriors use to overcome incredible adversity, and at times to fight off debilitating depression and negativity…
We will collect proven case studies for how to successfully rewire your mind, overcome addiction and transform self-destructive habits…
We'll explore more deeply into the countless health and wellness insights I've gathered from health experts and medical professionals as I've helped my mother through a stage 4 breast cancer odyssey.
And the HERO Project will build on all the accumulated training and content we've created over 10 years now at Thrilling Heroics and Digital Nomad Academy to help give you a blueprint for building more personal freedom and using entrepreneurship to give your family the ideal lifestyle you desire.
The HERO Project is the culmination of my life's work over the last 15+ years, and I aim to expand our reach into many realms with time.
The 4 Main Objectives:
The HERO Project will provide practical personal development lessons and new deliverables each month. Starting in early April 2018, members will get exclusive access to private videos and updates from me, a library of curated resources, tried and tested tools, reviews, and expert interviews. Follow me on a mission to pursue real mastery in the 5 pillars and publish my first book, and help our community crowdsource and develop a repository for business / life experiments and case studies from around the globe.
The HERO Project will offer a community for like-minded people that want to keep learning and improving themselves. This will be a space for us to not only crowdsource effective methods for improvement, but to connect ambitious novices with world-class professionals, to build a supportive, safe environment to share personal anecdotal experience, to collaborate and hold each other accountable, and to host occasional events, online bootcamps, group challenges, MasterMind groups, webinars, speaker summits, and more!
The HERO Project will iterate an integrated mental model for personal development and self-directed learning. As you watch me develop the book, you will also help shape the bigger theoretical framework behind the story. Not only will you get first access to the supplemental online training, but this will also be a laboratory for testing and fine-tuning our evolving new Hero's Journey framework into more advanced courses, in-person workshops, homeschooling curricula for children and young adults, and perhaps even a brick-and-mortar school here in Chiang Mai, Thailand. (I am currently in talks with my very close friend Dwight Turner, founder of Courageous Kitchen, about how we can partner to provide free educational and training experiments and workshops for children in need and asylum seekers in Bangkok, and build a legitimate on-the-ground organization here within Thailand.)
The HERO Project is a movement. We are a community of free thinkers from all walks of life around the globe, who come together in a spirit of cooperation and fellowship to empower one another to learn, grow, and conquer life's challenges. We seek to counter the continual fear-mongering, negativity, victim mentality, false scarcity, and disempowering narratives told repeatedly by mass media, the celebrity worship industry, and an Industrial-era factory education system. Our shared belief is that we are powerful creators and can be the central heroes in our own lives, and our shared mission is to continually strive toward becoming the greatest versions of ourselves.
Let me build this new learning framework around you and the challenges you face.
I'm asking friends and family to help me kickstart this project, to see if it resonates and gauge how valuable of an idea it might be to people I care about.
Would you get behind something like this? Would you help contribute to get it off the ground?
We are more than half way to our goal of getting at least 50 backers, and I believe we are going to get there. This is coming together fast, and then we are going to create something truly beautiful together!
HERO Project early crowdfund contributors will receive lifetime access to everything we build:
100 days of motivation, wisdom, mindfulness, and discipline exercises to get your 2018 started right (optional daily emails)
Over the course of 2018, we will unveil a comprehensive integrated framework for self-improvement and optimal living, custom-tailored and sculpted personally around YOU and other members!
Get a front row seat to watch me write the upcoming book Chasing the Sun (get advanced drafts before anyone else, plus receive a downloadable virtual copy when the book is finally published in 2019)
Every month, new updates will focus on leveling-up in each of the 5 main pillars: starting with Mindset, then Health, Wealth, Relationships, and Freedom!
Monthly webinars, interviews, and Q&A sessions with expert guest teachers in business, fitness, relationships, travel, mindset, and more!
Community forums and Facebook group with high-level entrepreneurs, freedom artists, and visionary creators around the globe.
Plus: the first 50 HERO Project early backers will get a thank-you credit in the book when it finally goes to the publisher, and recognition on the honorary Thrilling Heroics supporter page for all to see, with a link to your business.
If you haven't seen it yet, please watch this short film I produced below that captures the HERO Project ethos perfectly:
I'm currently rapid-prototyping a new learning platform for The HERO Project — which we'll then use to experiment and validate a new line of products and services, from training programs and coaching services, to in-person events, workshops, and a systemization-related app I have in development with a brilliant systems engineer friend of mine in Venezuela.
The HERO Project is very basic right now, since we're moving fast and building simple, just to get validation and feedback from YOU, and a new community will start to take shape at the start of 2018.
We currently have have raised $5,285 toward our $10,000 goal!
If you would be interested to contribute your expertise or resources to the HERO Project, we're eagerly seeking volunteers, partners, guest experts, and occasional contributors. Bring your knowledge to our forums and leverage the community as a place to build new connections and market yourself.
Now through July, we are currently seeking: 
Educators, researchers, mentors, public speakers, startup founders, social entrepreneurs, psychologists, brain science professionals, personal trainers, fitness experts, therapists, MFTs, business and finance coaches willing to donate up to 5 hours of their time to help novices kickstart massive change.
Contact me at cody (at) herofoundry.org if you'd like to volunteer your time or contribute your knowledge, content, or training to our community.
Thank you for your support and contributions towards making the new HERO Project a reality with me.
–Cody McKibben